Are you worried about an older age filled with chronic disease?

If you follow mainstream health advice, your old age will not be a healthy one. Only 1% of the elderly have no chronic diseases.
You can see the results of conventional health advice all around you: an obesity epidemic and a massive increase in diabetes and other chronic disease. Most people take prescription drugs just to get through life.
Wouldn't you like to know the truth?
Maybe the results of establishment health advice have hit close to home: either you or your loved ones affected by chronic illness, or by weakness and frailty.
Mainstream health care has little to offer other than drugs, which paper over problems. Or risky procedures. Or nursing homes.
Most mainstream advice on aging is DEAD WRONG.
My course will show you the real way to solve problems of aging and health.
If you're past the age of 30, aging is already catching up with you.
In the U.S., even people in early middle age suffer from the chronic illnesses of aging: obesity, diabetes, heart disease, depression.

There are much better solutions to these problems than the health care system offers.
The current sickcare paradigm only treats you as a cog in the machine, to prescribe drugs to you and sell expensive services to, but it won't tell you how to live a long, healthy life.

Aging is a major risk factor for virtually all chronic diseases, such as cancer, diabetes, and heart disease.

Wouldn't it be great to avoid those? Wouldn't you like to be strong, healthy, and mentally sharp as you get older? Not frail, weak, debilitated, ill, and overweight.
This program will tell you how to do just that.
And since aging starts by age 30, it's never too early to put these principles into practice.
---
"P. D. Mangan has one of the best 63-year-old physiques on the planet. If you're an aging man or woman, YOU MUST purchase his course, The Anti-Aging Blueprint, so you too can utilize the insider strategies he employs to look and feel your best no matter your age." – Jay Campbell, author of the Testosterone Optimization Therapy Bible.

---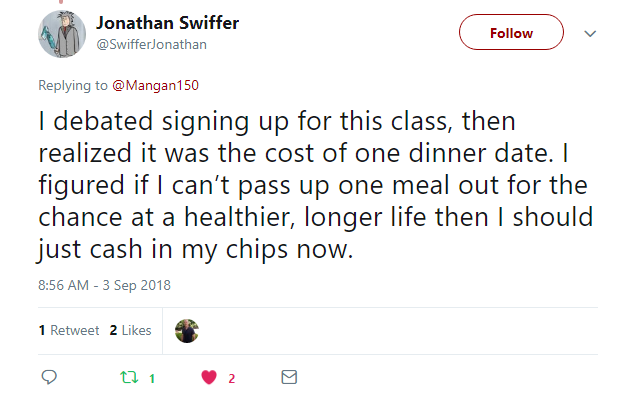 This program will get you up to speed on the latest scientific and medical research on aging, and you will understand what you need to do to have a long and healthy life, to age 100 and more.
Most people think of aging as just something that happens and that you can't do anything about.
But the fact is, different people age at different rates, and much of the difference is due to lifestyle.
Many lifestyle practices can make a huge difference in your health, your weight, and how fast you age.

Obesity is an archetype of aging.
Does drinking alcohol play a role in aging? It very well might, but not the role you think it does.
Exercise can either fight and reverse aging, or do little about it. There are two particular forms of exercise that fight aging, and you'll learn what they are.
Food plays a role in aging, and again, it may not be what you think.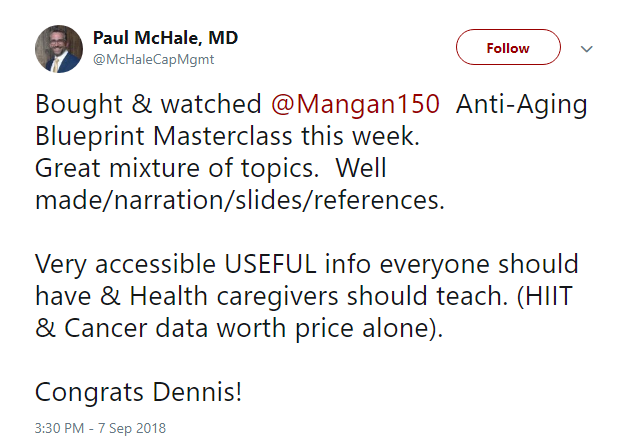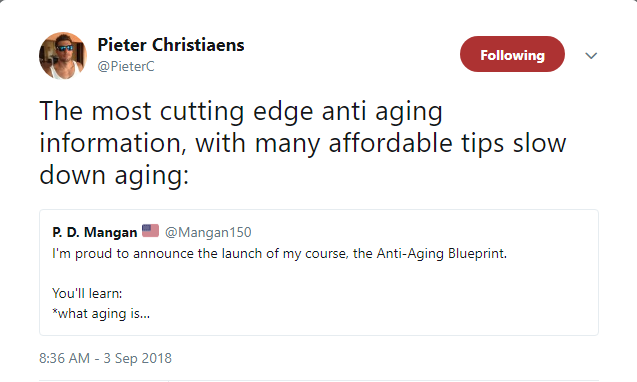 You'll learn about the single most important thing that scientists can do to make their lab animals live longer, and it works in humans too.
In the near future, many exciting anti-aging technologies will come to fruition. But you must be there to take advantage of them. This course will show you how.
You can live a long life free from weakness, frailty, and mental decline.
The key is healthspan, that part of your lifespan in which you're free of illness.
Make no mistake, living longer is not about more years of old age, or more years in a nursing home - no intervention would be worth that.
This course is about improving your health and fighting aging now, so that you can live a longer life in great health, and enjoy a life filled with energy and strength.
I'll make it as easy as possible for you to understand the up-to-date research so you can live a healthier, fuller, and longer life.
Here's what you'll get in this package:
* My A-Z course on anti-aging, featuring 12 video lectures
* Separate PDF copies of all slides used in the lectures
* $50 off a personal one-on-one, one-hour consultation, or $25 off a half-hour consultation. (Consultations can be booked here.)
* Questions answered via email within 30 days of course purchase.